Covid-19 Information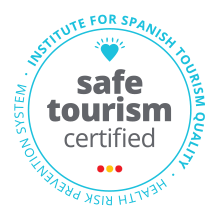 Your peace of mind is the most important thing
Our hotels have been certified by the ICTE (Institute for Spanish Tourist Quality) with the Safe Tourism Certified seal as a guarantee of implementation of the Health Risk Prevention System against Covid-19.
One Shot Tabakalera House
One Shot Tabakalera House is a 4-star boutique hotel located inside the Tabakalera International Centre for Contemporary Culture. The building, fully renovated in 2015, used to be the old tobacco factory in San Sebastián. Today, with an exclusive and elegant interior design by the Alfaro-Manrique studio, the hotel has 4 room categories, including the outstanding suites and duplex rooms, all of them beautifully decorated and fully equipped with everything you need.
San Sebastián
We are located next to the train station and Cristina-Enea Park, just a short walk from the city centre, and 15 minutes on foot from the famous La Concha Beach and the old town of San Sebastián with all of its traditional pintxo bars.
See location
@oneshothotels
Follow us on Instagram